Basic facts of Meghalaya
TOURIST SPOTS
Meghalaya is doted with a number of lovely tourist spots where nature unveils herself in all her glory.
Shillong, the capital city of the State, has a number of beautiful spots. They are the Ward's Lake, the Lady Hydari Park, the expansive Polo Ground, the Elephant Falls, the Shillong Peak over looking the city and the green Golf course, one of the highest 18-hole link golf course in the Country.
PLACES OF INTEREST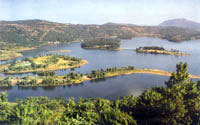 Umiam (Barapani), it lies 17 Km away from Shillong and has been developed into a popular tourist Centre in the State. The introduction of watersports with facilities like sailing, water-skiing, water scooter etc., and opening of the Orchid Lake Resort has greatly enhanced the already breathtaking favourite haunt.
Shillong Peak, an ideal picnic spot rises 1960 metres above the sea level and is 10 Kms from the city. Standing on the peak one can see on a clear day, the Himalayan peaks as well as the plains of Bangladesh. In the evening the city lights below is like a planetarium in reverse position.
Sohra, 56 Kms from Shillong is noted for its heavy rainfall. It is 1,300 metres above sea-level. Sohra is set amid deep gorges and roaring waterfalls. No other place in India can offer such a variety-the monumental Nohsngithiang Falls (Mawsmai Falls), the epic Dain-thlen Falls and the romantic Nohkalikai Falls and the smaller ones streaking down every slope. Close by are a network of limestone caves between Sohra and Mawsmai, the ends of which have not yet been explored. Sohra also has some significance for being the first British outpost in this part of the country. It also has the oldest Presbyterian Church in the North East. The Ramakrishna Mission also has lager establishment in this land for Khasi culture and literature. Its surrounding are also famous for its orange orchards and honey.
Mawsynram, 55Km from Shillong is situated on the South West of Shillong by the side of Shillong-Mawphlang-Balat road. It closely rivals Sohra in annual rainfall. Its major attraction is a picturesque cave featuring a giant stalagmite in the shape of a natural Shivalinga, which is bathed the year round by water dropping form an overhanging stalactite shaped like a cow's udder. This famous cavern is locally known a 'Krem Mawjymbuin' - a place of pilgrimage for Hindus and a natural wonder for sightseers.
Jakrem, 64 Km from Shillong. A popular health resort with hot spring of sulphur water which is believed to have medicinal properties.
Ranikor, 140 Km from Shillong. It is also a place of scenic beauty. Ranikor is one of Meghalaya's most popular spots for angling, with an abundance of carp and other fresh water fish. Huge golden mahseers, the pride of the anglers are available here.
Dawki, 96 Km from Shillong . It is an excellent picnic spot with silver streams and deep waters with magnificent views of the Khasi Hills on one side and Bangladesh on the other
Mairang, 45 Km from Shillong. This area is famous for U Tirot Singh, Syiem of Nongkhlaw, who fought against the British ruler to retain independence of the Khasi People. Visitors can also proceed to the spot of 'Kyllang Rock' about 16 Kms from Mairang. Climbing this rock is a package attraction for adventurous persons.
Thadlaskein Lake, 56 Km from Shillong. According to legend this lake was dug using the head of bows by the followers fo Sajar Nangli, a Laskar of a Jaintia King who had revolted against his ruler. It is a historical lake and a beautiful spot for outing, boating and picnic.
Nartiang, 65 Km from Shillong and 24 Km from Jowai was once the headquarters of the Jaintia Kings. The village is famous for a cluster of monoliths is said to have been the walking stick of mar Phalyngki, the Galiath of Jaintia legend.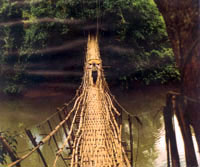 Syndai, is an important village of Jaintia Hills famous for a number of caverns in the limestone-borne area. Till date eleven caves have been discovered near Syndai. This cave had once served as a secure haven of Jaintia Rajas where they used to keep their families during war times.
Nokrek, Being the highest peak in Garo Hils it is 1,412 metres high. It can be reached from Tura by jeep upto Daribokgre village and them about 3 Kilometres trekking to the Peak. Citrus fruits grow abundantly here. The Government has taken over 47 Sq. Km of Nokrek Peak in 1985 and declared it as the National Gene Citrus Sanctuary and Biosphere Reserve. Nokrek Peak is the source of most of the important rivers of Garo Hills including Simsang River.
Balpakram, is a high plateau in South Garo Hills District overlooking Bangladesh. There is a great precipice or deep gorge in Balpakram and is popularly compared to the Grand Canyon of U.S.A. The literal meaning of Balpakram is the "land of perpetual wind". This place is closely connected with the age-old belief of the Garos as the land of the disembodied spirits. This area has been declared a National Park on 27th December, 1998. A variety of medicinal herbs locally called "dikges" grow abundantly in Balpakram.
Siju Cave, popularly known as Dabakkol, is situated at Siju village on the bank of the Simsang river in South Garo Hills District. A small stream flows out of this cave. To enter this cave one should carry petromax lantern or a number of torches.
Tura Peak, is 5 Km above Tura town and is situated on the eastern side of Tura. It is 872 metres high from the sea-level. There is a Tourist Bungalow and Observatory Post in the peak. A nice cinchona garden also is situated near the Tura Peak. When the weather is clear at the peak one can have a panoramic view of Tura town and the south-western part of the district. The Government has declared the entire Tura Peak as water catchment area and Reserved Forest in 1982.
Baghmara, is growing headquarter of the former Baghmara Civil Sub-Division, now the South Garo Hills district. It is situated on the bank of Simsang river and is famous for its tasty fishes. The rare carnivorous pitchers plant locally called "Memang Koksi" grow abundantly in the around Baghmara town.
Williamnagar, is the beautiful headquarter of East Garo Hills district situated on the bank of Simsang river. This little township was named after Capt. Williamson A. Sangma, the first Chief Minister of Meghalaya.
SPORTS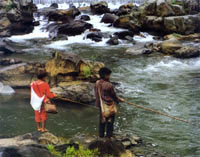 Angling is the most popular sport of the people of the State. The important rivers for angling are the Kynshi, the Umtrew, the Umngot and Simsang where the huge golden Mahseers are available. Archery is also another popular sport.
TRANSPORT AND COMMUNICATION
Being a hilly State, still backward in trade, commerce and industry, with 4/5 th of its population living in the rural areas, the necessity of proper road network is of utmost importance in Meghalaya. The State is not served by railways and river transportation is not feasible. Hence roads are the only means of bulk transportation here. The road density is about 25 per 100 sq.kms well below the national average of 54.
Roads: Three National Highways pass through the State of Meghalaya for a distance of 461 Kilometers.
Aviation: Shillong airport is the only airport is the State, linking it with the other neighbouring states and the rest of the country.
RADIO AND TELEVISION
Meghalaya is served by a 100 KW Medium Wave Radio Transmitter located at Shillong, East Khasi Hills District and 10 KW Transmitter located Tura, West Garo Hills District. A short Wave 'North Eastern Services' is also functioning at Shillong.
As regard television coverage, 1 KW TV Centre has been set up at Shillong a 10 KW transmitter has been installed at Tura, an LPT relay transmitter has been installed at Jowai and a VLPT relay transmitters been setup at Nongstoin and Williamnagar.
SOME BASIC DATA
(a) The Land
1. Area
22,429 Sq. Km.
2. Districts and its Headquarters

| | |
| --- | --- |
| Districts | Headquarters |
| East Khasi Hills | Shillong |
| West Khasi Hills | Nongstoin |
| South West Khasi Hills | Mawkyrwat |
| East Jaintia Hills | Khliehriat |
| West Jaintia Hills | Jowai |
| Ri Bhoi | Nongpoh |
| East Garo Hills | Williamnagar |
| West Garo Hills | Tura |
| South Garo Hills | Baghmara |
| North Garo Hills | Resubelpara |
| South West Garo Hills | Ampati |
(b) The People (Census 2011)
| | |
| --- | --- |
| 1. Total Population | 29,66,889 |
| 2. Density | 132 Per Sq. Km. |
| 3. Literacy | 74.4% |
| 4. Racial Origin of the People | Austric, Tibeto-Burman |
(c) Major Mineral Resources
Coal, Limestone, Sillimanite, Dolomite, Fireclay, Felspar, Quartz and Glass-sand.
(d) Principal Forest Produce
Timber, Bamboo, Reed, Cane, Ipecac, Medicinal herbs and Plants, Cinnamon, Lemon-grass and Thatch-grass.
(e) Principal Agricultural Products
Rice, Maize, Potato, Cotton, Orange, Ginger, Tezpata, Arecanut, Jute, Mesta, Banana and Pineapple.
(f) Wildlife
Animals: Elephant, Tiger, Leopard, Bear, Panther, Wild Boar, etc.
Birds: Duck, Hornbill, Myna etc.
***********