Chief Minister of Meghalaya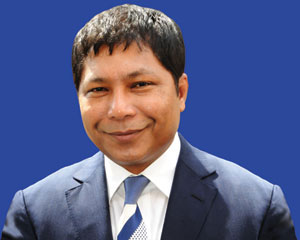 Dr. Mukul Sangma was born on April 20, 1965 in Chengkompara, Ampati in West Garo Hills District to Binoy Bhushan M Marak and (L) Roshanara M Sangma. On April 20, 2010 he was sworn in as the 21st Chief Minister of Meghalaya.
Dr. Sangma completed schooling and passed out matriculation in 1982 from Government High School, Ampati, West Garo Hills. He studied Pre-University (Sc) in St. Anthony's College, Shillong (1982-1984). From 1984-1990, he studied and completed MBBS from the Regional Institute of Medical Sciences, Imphal (RIMS), the erstwhile North Eastern Regional Medical College (NERMC), Imphal.
His foray in politics began at an early age as a student where he was an active member of the Youth Congress. Dr Sangma held different positions in the Governing Body of Students Council of the Medical College (RIMS), Imphal and contributed substantially in bringing unity and harmony between the outstation students and the local students of the Medical College and had been involved in getting the Medical College exempted from frequent agitational programmes usually sponsored by Local NGOs.
From January 1990 to May 1991, he practiced as a Private Medical Practitioner at Private Clinic at Tura. In May, 1991, he joined and served as Medical & Health Officer at Zikzak PHC, West Garo Hills under Government of Meghalaya. Then on January 15th, 1993 Dr. Mukul left Government Service to enter into active politics.
On February, 1993 he got elected as Independent MLA from 58-Ampatigre L.A. Constituency and from February, 1993 till September, 1993, he held the post of Chairman, Meghalaya Transport Corporation (MTC).
Some of the posts held by him included the post of Parliamentary Secretary, Govt. of Meghalaya from November, 1996 till February, 1998; Cabinet Minister in charge of departments such as Cooperation, Fisheries, Taxation etc., under Govt. of Meghalaya from 3rd August, 1998 till September, 1999; Cabinet Minister, in-charge of portfolios such as Taxation, IPR, etc. Govt. of Meghalaya from 8th December, 2001 to 4th March, 2003; Cabinet Minister, Govt. of Meghalaya and looked after Taxation, PWD, Home (P), Education (both Higher & Technical Education and Elementary and Mass Education), Forest & Environment, Information Technology, Election, IPR, etc., Departments from March 5th, 2003 till 10th April, 2005; Deputy Chief Minister, Govt. of Meghalaya from 11th April, 2005 till 6th October, 2005; Dy. Chief Minister, Govt. of Meghalaya in-charge of Planning, IPR, Election, PID, Power including Non-Conventional Energy, Re-organization Departments from 11th March, 2007- March 2008.
From May 2009 till April 2010 he served as Deputy Chief Minister I/C Finance, Power & Non-Conventional Energy, Health & F.W., IPR, Labour, Horticulture, Home (Passport) Administrative Reforms.
He also held various posts of Party functionary of the Indian National Congress in the State of Meghalaya. From the year 1998 - 1999, he held the position of Secretary, District Congress Committee, West Garo Hills. From the year 1999 to September,' 2000 he held the position of President, District Congress Committee West Garo Hills. From November 2000 till date, he is holding the position of the General Secretary, Meghalaya Pradesh Congress Committee, I/C Frontal Wings etc.
Dr Sangma is actively involved in mobilization of Frontal Wings of Indian National Congress in the State of Meghalaya. He actively participates in campaigns and mobilization of Frontal Wings of INC including regular campaign in favour of NSUI during Delhi University Students Union Elections. He actively involves in social work and takes keen interest in mobilization of women for social awareness and socio-economic advancement particularly in the rural areas. Dr Sangma regularly involves himself in various activities of youth development programmes including activities in sports, promotion and preservation of culture and had motivated and supported formation of over 200 Youth Clubs/Societies.
He is personally active in undertaking social work and is the Chief Patron of Ampati Youth Welfare Club which is the premier organization in promoting youth activities in the field of sports and culture in various parts of Garo Hills. He is also a founder member of Mirachel Foundation which is associated with many Social Service Groups and is implementing various welfare programmes and actively associates with traditional institution like Nokma Council in Garo Hills which is the premier organization of the traditional heads of Garos and he is a strong advocate of empowerment of people and traditional institutions.
He contested Parliamentary Election in 2004 General Election and in 2006 Bye Election for Tura Lok Sabha seat.