Governor of Meghalaya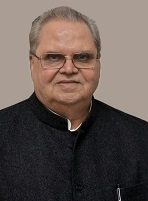 Shri. Satya Pal Malik
Hon'ble Governor
Honourable Governor Shri Satya Pal Malik (born 24 July 1946) was appointed as Governor of Meghalaya by Honble President Shri Ram Nath Kovind on the 18th August, 2020 and assumed office as 21st Governor of the state on 19th August, 2020 .Shri Malik has been a former Union Minister, Parliamentarian and politician serving in many capacities in his long career both at the state and Central Government.
He was the 18th Governor of Goa from 3rd November 2019 to August , 2020 .Shri  Malik was also the last Governor of the erstwhile state of Jammu and Kashmir. He was the Governor of Jammu and Kashmir from August 2018 to October 2019, and it was during his tenure that the constitutional decision to abrogate Article 370, which gave special status to Jammu and Kashmir, was taken on the 5th August, 2019.
His first prominent stint as a politician was as a member of Uttar Pradesh Legislative Assembly during 1974–77. He represented Uttar Pradesh in Rajya Sabha from 1980–86 and 1986–89. He was member of the 9th Lok Sabha from Aligarh, from 1989 to 1991, as member of Janata Dal.He was Minister of State for Parliamentary Affairs and Tourism in the year 1990 .He was the Governor of Bihar from October 2017 to August 2018. On 21 March 2018 he was also given additional charge to serve as Governor of Odisha up to 28th May, 2018. In August 2018, he was appointed as Governor to the crucial state of Jammu and Kashmir.